While Europe is home to a rich collection of heavily touristed cities, Barcelona is one of its most popular thanks to its beauty, unique sights, vibrant nightlife and cultural life, budget-friendly options, nice weather…and don't forget the beach! Millions of people from all over the world visit—and subsequently fall in love with—this lively Spanish city each year.
If you're planning to visit Barcelona, it's important that you prepare for your trip. Although many sights are within walking distance of each other, there are so many places to visit in Barcelona that you need to plan ahead in order to make the most of your time there. Preparing well in advance also gives you time to adjust your plan to meet your budget and take the needed precautions regarding safety, weather, and language barriers.
But look no further, as you've come to the right place! This Barcelona Travel Guide from SpanishPod101 will give you the best tips to help you see the best attractions and really enjoy yourself!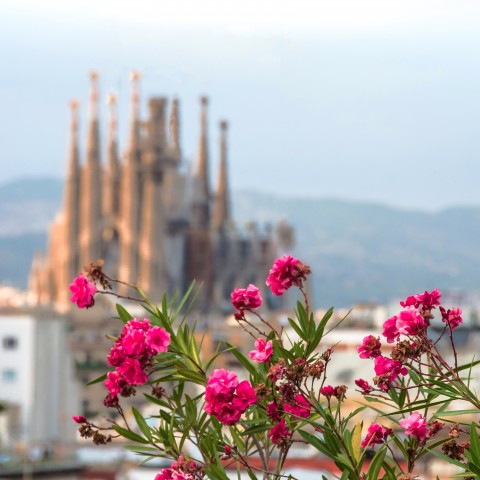 Table of Contents
1. Before You Go
Barcelona is Spain's second-largest city and is the capital of Catalonia, a semi-autonomous region in the northeastern part of the country. The city offers a mix of beautiful sights, quirky neighborhoods, attractive culture and gastronomy, and a vibrant nightlife that attracts all kinds of tourism.
The best time to visit Barcelona is in early spring or fall when temperatures are mild and the city is not so crowded. Although winters are not extremely cold, the days are shorter so you can't count on spending much time outdoors. Summers are quite hot and humid, with average daytime temperatures hanging around 30 degrees Celsius (86 degrees Fahrenheit). The city is also very crowded during that time of year, which makes the visit less pleasant and more expensive. The clothes you should pack depends entirely on the time of year you visit, but it's a good idea to take an umbrella with you during the spring and fall, as showers are quite common.
Public transportation is a good and affordable option for getting around Barcelona, although many sights are within easy walking distance of each other. Walking allows you to get lost in the quirky streets of some of the most beautiful quarters, which are some of the true beauties Barcelona has to offer. However, if you need to take public transportation, both the metro and bus systems work perfectly—the bus even has good night service. Make sure to buy the integrated ticket, which allows you to take any public transportation in the city.
A narrow street in the Old City of Barcelona
Despite the city's grandeur, it is possible to visit Barcelona on a budget. There are thousands of choices when it comes to lodging, and you can find hotels, hostels, and Airbnb starting at around 20€ per night. Meals can be tricky, though; it's important to avoid the most touristic spots as they charge much more. Look for less crowded streets and ask for the menú del día or "daily menu," a fixed-price menu usually cheaper than the à la carte menu. 
Because Barcelona is a very touristic city, you should expect crowds—really big crowds. For most attractions in Barcelona, you should make sure to arrive with plenty of time to spare, as you'll likely be waiting in a long line. Also be aware that there's an increasing discomfort among Barcelona locals regarding some kinds of tourists that visit the city, as well as the gentrification process it's going through. Try to be respectful when interacting with locals, try not to make noise at night (especially on weeknights), and understand that some places (such as public transportation) are transit points for people going to work or school.
The Catalan language is co-official with Spanish, and it's used in all public signaling. Most locals are bilingual and almost all of them speak Spanish, so you'll have plenty of opportunities to practice what you've learned in your SpanishPod101 lessons. But don't worry if you have limited knowledge of the Spanish language. It's very easy to get around speaking English, especially in the more touristic spots.
And, lastly, some final practical tips: 
Spain is part of the Schengen Agreement, so you don't need a visa to visit but you do need a valid passport. 
The currency of the country is the euro. You can exchange currency in many spots, especially in the most touristic areas, and there are also plenty of ATMs available. 
As for safety tips, beware of pickpockets! They tend to be in the most crowded places, so take good care of your passport and cell phone, and try to divide your cash between different pockets or people in your party. That said, don't worry too much about robberies or violent crimes, as they are not frequent. Overall, Barcelona is a safe and peaceful city.
2. Must-See Places for a 1-3 Day Trip
When visiting a big city like Barcelona, it's crucial to adapt the list of places you'll visit—and how you get to them—according to the total time you'll have. So, if you want to really visit Barcelona in three days or less, here is some advice: 
Stick to the must-see places.
Take public transportation. 
Limit the time you spend wandering around the city's streets. (Believe us, it's very easy to get trapped in the beauty of some quarters and lose track of time!)
Here are the best places to visit in Barcelona for a shorter trip: 
Sagrada Familia
First up, the Sagrada Familia. The famous church is probably the most internationally well-known symbol of the city. The name translates to "the Sacred Family," and it's a Catholic cathedral designed by Antoni Gaudí, one of the best architects in history. Gaudí began designing the Sagrada Familia back in 1882 and, because of its exceptional and complex design, it's still under construction almost a century after the architect's death. Its beauty and uniqueness make it one of the must-see places in Barcelona, no matter the length of your trip. Don't forget to book your ticket in advance!
Las Ramblas
Las Ramblas, featured in just about every Barcelona travel guide, is one of the spots you can hardly miss when visiting this Spanish city. Right at the heart of the Old City, this vibrant and crowded boulevard divides the Raval quarter (a quirky and artistic neighborhood with a lively mix of immigrant communities and splendid nightlife), and the Gothic quarter (a stunning medieval-esque area which is home of the Catalan and municipal governments as well as the Barcelona Cathedral). It provides easy access for people with mobility problems and it's a cool shopping spot.
Plaza Real
In the Gothic quarter, we find another one of the best places to visit in Barcelona: the Plaza Real. This "Royal Square" is full of palm trees and is a real delight to the eyes. It's a great and romantic place to have a little rest in the afternoon, having a drink in one of the many terraces. However, when the evening comes, Plaza Real becomes one of the hottest nightlife spots. If you're wondering what to visit in Barcelona at night, this is one of the best places for a fun time, whether you just want to drink a cocktail in one of the bars or dance in some of the coolest clubs in the city.
La Barceloneta beach in Barcelona.
La Barceloneta
If you chose to visit Barcelona because of the beach, you cannot miss La Barceloneta. It's the most famous and centric beach in the city (and also very crowded in the summertime). But La Barceloneta is much more than a beach: it's also the old fishermen quarter. This beautiful neighborhood is currently in a precarious balance between the authenticity of the locals and mass tourism. However, the locals still resist and continue some of the traditions that give this area such an attractive charisma, such as hanging up the washing in the balconies and growing plants on the streets.
Bunkers del Carmel
Finally, if you have very little time to visit Barcelona, you cannot miss the best view of the city from the Bunkers del Carmel. This viewpoint is an old anti-aircraft battery from the Spanish Civil War times. You need to take public transportation to get there, and it should be taken into account that it's not wheelchair-friendly. However, if you have the chance, it's worth the visit! You will get to experience a 360-degree panoramic view of the whole city, with the Mediterranean Sea on one side and the Collserola Mountains on the other. Try to avoid visiting the Bunkers over the weekend, as it gets crowded. And if you feel like getting up early, the view of the sunrise is spectacular. Oh, and did we mention that admission is free?
3. Highly Recommended Places for a 4-7 Day Trip (or Longer)
If you have the opportunity to plan a longer trip, here are a few extra places to visit in Barcelona that you should add to your list. Take into account that you can elongate your visits to each spot by just forgetting the map and walking around the narrow city streets to get lost in their beauty and uniqueness.
Barrio de Gracia
Barrio de Gracia is one of those places where you could walk for hours, finding special corners and amazing little shops. This quarter used to be an old independent town that, when Barcelona grew in the nineteenth century as a result of the great boom of the Catalan industry, was annexed to the city as it is today. Gracia is home to artists, young people, and bohemian people from all over the world, and it's also one of the most politically and socially active communities. Every August, the Barrio de Gracia celebrates its own festivities, and neighbors decorate the streets, organize concerts, and throw parties in a big show of creativity.
Park Güell
Another gem that Barcelona offers visitors is Park Güell. This was also designed by Gaudí, the Catalan architect responsible for the Sagrada Familia. This park is like none other in the world. As you come in, you're welcomed by a colorful dragon fountain in the middle of a sinuous staircase. There's also a forest-like porch full of columns and a viewpoint with the characteristic mosaic benches that offer you a nice view of the city. It's worth spending some time to enjoy the beauty of the place. Unfortunately, admission isn't free for tourists anymore as it used to get too overcrowded, so you should book tickets in advance.
Santa María del Mar
Santa María del Mar is a Gothic-style church in the heart of the Born quarter. As it's hidden inside those narrow streets, you cannot see it until you're right in front of it. For the same reason, it's almost impossible to take a full picture of the facade and the mighty two tall bell towers. Lovers of old European architecture will enjoy the typical bare walls of the Catalan Gothic on the inside, and all visitors will appreciate the majesty of its columns, its high ceiling, and its solemnity. The Born quarter is also attractive to history lovers, and it has plenty of special bars and little restaurants for curious tourists who are willing to dive into the endless narrow streets.
The Santa Maria del Mar Church in the Born quarter of Barcelona
Camp Nou Stadium
An obligatory stop in Barcelona for sports and football fans is the Camp Nou Stadium. This is the famous home of the Barcelona football team and one of the biggest attractions in the city. Spanish football culture is huge, with people from all over the world going crazy for the Barcelona team—right alongside the locals. Apart from the match days, you can go on guided visits inside the Camp Nou Stadium and in the Barcelona team museum, which is actually the most-visited museum in the whole region of Catalonia. 
Montjuïc Hill
And lastly, your Barcelona travel plan should also include the landmark hill of Montjuïc. Apart from the nice views that this seaside hill offers, there's a park with nearly endless activities and places to visit. There's the National Art Museum, the Montjuïc Castle, a miniature village, the Olympic Stadium, and pool facilities… Originally, Montjuïc was one of the first inhabited places in what is now Barcelona. Here, you will find an ancient Jewish cemetery as well as the modern Barcelona cemetery. As you can see, you won't run out of possibilities when visiting Montjuïc.
4. Survival Spanish Phrases for Travelers 
As we mentioned before, it's quite easy to get around Barcelona speaking English. However, speaking a little Spanish will definitely be of use, especially if you don't want to visit only the highly touristic parts of the city. Here are ten Spanish survival phrases for travelers:
Hola. ("Hello.")

This universally known Spanish greeting is the go-to when entering a place or meeting someone. Also, it's the exact same word the Catalan language uses! If you want to learn more Spanish greeting expressions, check out our lesson on How to Say Hello in Spanish.
Gracias. ("Thank you.")

There's a Spanish proverb that says: Es de bien nacido ser agradecido. It means something along the lines of: "Being grateful is being kind." Say gracias to staff members in hotels, restaurants, museums, public transportation… Everybody loves a grateful tourist!
Adiós. ("Goodbye.")

This expression is commonly used for saying goodbye to someone, whether it means "see you later" or is a more definite goodbye. It's polite to say it when leaving restaurants or shops.
Perdona. ("Sorry." / "Excuse me." / "Pardon.")

You can say perdona when you bump into someone or when you need to ask for someone's attention, like a waiter in a restaurant or someone in the street when you need to ask directions. Check out SpanishPod101's blog post on asking directions to learn more about this. When you say perdona as a question, it also means that you haven't understood what someone has said.
Muy bien. / Muy bueno. ("Very good.")

Both muy bien and muy bueno mean "very good," but the one you should use depends on the situation. For instance, you would say muy bien when asked how you slept and muy bueno when asked how the wine was.
Lo siento, no te entiendo. ("I'm sorry, I don't understand you.")

This is a common sentence that all travelers need to know in order to survive a Spanish conversation that's above their level of knowledge. It's polite and might help you gain the local person's sympathy.
¿Dónde está el baño? ("Where's the bathroom?")

Another basic phrase when visiting Spain. You can add a perdona in front of the phrase if you want to be even more polite.
¿Cuánto cuesta? ("How much is it?")

Whenever you want to know the price of an item in a shop or of a meal in a restaurant, you can use this expression. Alternatively, you could say: ¿Cuánto vale?
Quiero esto. ("I want this.")

This is another expression that can be used while shopping or ordering food. If you want to use the more polite version, similar to "I would like this," you can say: Querría esto.
¡Ayuda! ("Help!")

Whenever you find yourself in an emergency situation, whether you need help with your suitcase because it's too heavy or you're in actual danger, you can scream ¡Ayuda! If the situation is extreme and you're in need of urgent assistance from the police, you can also use the word ¡Socorro!
The National Art Museum in Montjuïc Hill, Barcelona
Final Thoughts 
Barcelona is an ideal vacation destination as it can fulfill a large variety of personal interests and can be adapted for all budgets. We hope that reading this Barcelona travel guide got you excited to plan a trip to this beautiful and special Spanish city. 
What did you think of our recommendations for the best places to visit in Barcelona? Did we miss any important spots?
Now is a great time for you to practice your Spanish! Apart from the ten expressions we taught you in this guide, you can learn even more Common Spanish Phrases you might need for your trip.
Learning Spanish with SpanishPod101 before you head off on your next adventure will allow you to make deeper connections with locals and have a more meaningful travel experience. We hope to see you around!