When learning about etiquette in Spanish-speaking countries, keep in mind that every culture is different, and even neighboring countries might have very different customs from one another. Sometimes, what might seem normal or even polite to you could be interpreted as weird or rude in another country. In the same way, something you find rude might seem common to someone else. Don't worry, though. We're here to help you not make the same mistakes other people have made!
Maybe one of the first things you need to know here is that "etiquette" in Spanish is called protocolo or etiqueta. Even though protocolo is a bit more common, etiqueta is equally valid, so you can stick to whichever word you prefer!
Another thing you might want to do when trying to find out about Spanish etiquette is to do some online research on it, which is completely understandable. However, we did some reading too, and we want to warn you that if you do so, you might find Spanish "rules" of etiquette that are very outdated and not appropriate anymore.
For example, we read that women aren't allowed to cross their legs or wear shorts, which is completely false nowadays. Trust us, you definitely can. Maybe not for formal occasions, but if you want to survive a Spanish summer, you might want to wear shorts when you go out with friends or family.
Here's our practical, relevant guide on etiquette in Spanish-speaking countries. Read up and wow your hosts with your Spanish social etiquette!
Table of Contents
1. Do's and Don'ts for Dining
Eating is an important part of any culture, but dining etiquette can be really different from one country to another. This makes knowing the most basic Spanish meal time etiquette essential. Here are the most basic Spanish dining etiquette rules to keep in mind.
No sorbas (Don't slurp): While in other countries such as Japan, this is considered polite, it's rude to slurp in Spain.
No eructes (Don't burp): Just like slurping your food, burping is considered rude in Spain. Some people definitely burp in public, but trust us, no one likes those people.
No pongas los codos encima de la mesa (Don't rest your elbows on the table): It's allowed for your arms to be on the table, as long as your elbows aren't touching it.
No insultes la comida española (Don't insult Spanish cuisine): While this might sound obvious, there are ways of insulting Spanish cuisine that you might not realize are offensive to Spaniards. Take this example: In 2016, Jamie Oliver made the mistake of adding chorizo to a paella and posting it online. To save you from reading the entire article, we all went mad! In case you're wondering, chorizo doesn't go in paella. To this day, we still haven't forgiven him. We could give you more examples, but they're all quite similar: someone decides to cook a Spanish recipe, but gets a little too creative and makes the entire country of Spain go berserk. Just stick to our recipes; they're already amazing and don't need changes!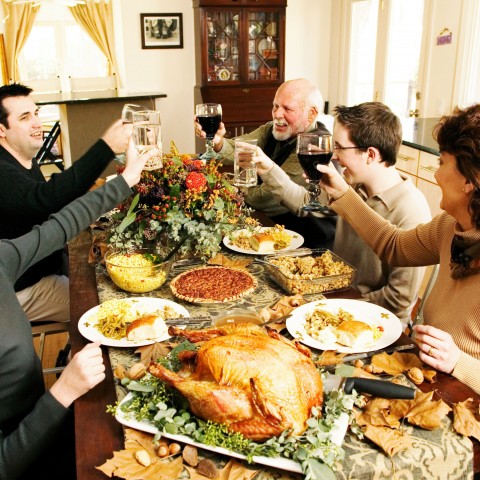 Deberías esperar hasta que todos estén sentados y con comida en sus platos (You should wait until everyone is seated and has food on their plates): It's considered rude to start eating if there are people at the table who haven't been served their food. Or, in the case of dining in someone's house, wait until everyone, including the guest, is sitting down.
Siempre deberías tener las manos visibles (Your hands should always be visible): While your elbows shouldn't be on the table, as we mentioned before, hands should be.
When you're dining at a restaurant, there are some other specific Spanish restaurant etiquette rules you need to know. For instance, is tipping expected in Spain?
Dejar propina es opcional (Tipping is optional): Spain isn't like other countries such as the USA, where tipping is compulsory even if your server didn't do a good job—and not only that, but you actually need to know math to know how much you need to tip! Tipping in Spain is seen as a nice gesture, but people usually only do it when they feel like they need to reward their server for a good job. And when you do so, you don't need to think of what percentage is appropriate. Rather, it's more about just giving them a couple of coins, whatever you have in your wallet, as you see fit.
If you're dining in someone's house, however, this is what you should keep in mind:
Deberías esperar a que alguien te muestre tu asiento o a que el resto de gente empiece a sentarse (You should wait until someone shows you to your seat or until people start to sit down): The host will often let you know where you can sit.
Deberías ofrecer tu ayuda al anfitrión (You should offer to help the host): This is considered polite, even though most of the time they'll tell you not to worry and ask you to take a seat.
2. Do's and Don'ts for Sightseeing
We don't think we need to teach you basic Spanish protocol and etiquette when it comes to sightseeing, such as not cutting in line and respecting other people's cultures, but some things might not be exactly the same everywhere.
For example, here's something you should always keep in mind when you're on an escalator. They normally have signs that explain what is prohibited, such as wearing flip-flops, but there's one unspoken rule that's never included on the signs but that everyone knows:
Siempre deberías quedarte en el lado derecho (You should always stand on the right side): Unless you're walking, you should always stay on your right whenever you're on an escalator. It doesn't matter if you're going up or down: the left side is only for walking. Don't use an escalator like the man in the picture, he's doing it wrong!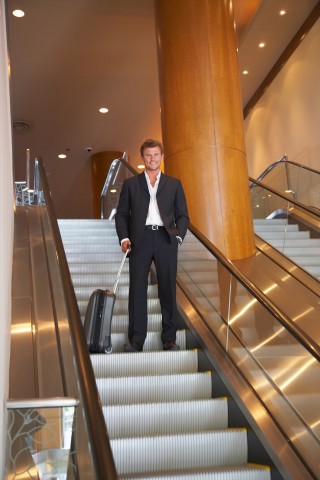 Another matter that can be a little bit complicated if you're not familiar with it is visiting a church. Here are a few Spanish culture and etiquette tips you should know if you want to visit a church or cathedral in Spain:
No lleves pantalones cortos ni sandalias (Don't wear shorts or sandals): This is common in most places of worship, but it's good to remember.
Deberías apagar o poner en silencio el móvil (You should turn off or silence your phone): Again, this is quite normal and shouldn't surprise you.

Deberías prestar atención a los carteles (You should pay attention to the posters): Churches usually have posters with signs that you should follow. For example, sometimes they'll ask you not to take photos, or if you do, to always take them without flash.
3. Do's and Don'ts for Greetings
What is Spanish greeting etiquette? We already taught you pretty much everything you need to know about greeting someone in Spanish in different situations in our article titled How to Say "Hello" in Spanish. But we thought we should remind you of a few non-verbal gestures you should or shouldn't do when greeting someone. (If you're wondering about Spanish phone etiquette, though, you'll also find this in the above-mentioned article.)
Deberías hacer contacto visual (You should make eye contact): Unlike in some other cultures, in Spain, eye contact is seen as a symbol of confidence. However, keep in mind that while we advise you to make eye contact, you shouldn't make it extreme. Remember to blink and don't have your eyes wide open like a crazy person. You want to look confident, not creepy!
Si no estás seguro de qué deberías hacer, espera unos segundos (If you're unsure what you should do, wait a few seconds): We don't want this greeting to become an awkward encounter, but waiting a few seconds until the other person starts the greeting won't hurt anyone.
4. Do's and Don'ts for Visiting a House
Etiquette when visiting a house also tends to change from country to country. Here are a few Spanish etiquette tips that you'll find helpful when you're invited to someone's house:
No te quites los zapatos a menos que te digan lo contrario (Don't take your shoes off unless told otherwise): In many cultures, it's common to take off your shoes when you enter a house, and sometimes even other kinds of buildings. In Spain, this isn't very common, but it still might be preferred in certain households. So what we recommend is that you don't take them off unless they specifically ask you to do so. If you're unsure, you can always ask them, just in case!

Deberías llevar un detalle (You should bring a small present): It's common to bring something, such as a bottle of wine or some sort of sweets, especially if you've been invited for a meal. The word we used in Spanish is detalle, which literally means "detail," and refers to something small yet thoughtful.
Deberías hacer un cumplido a su hogar (You should compliment their home): The classic "You have a lovely home" should do the trick. To say this in Spanish, you could go for Tienes (if you're visiting someone who lives alone) or Tenéis (if you're visiting someone who lives with other people) una casa preciosa.
5. Do's and Don'ts When Riding Public Means of Transportation
We think there are not that many rules when it comes to public transportation that differ from other countries, but we'll remind you of a few of them. Here's some practical information on Spanish taxi etiquette and how to act when on other means of transportation.
Deberías saludar al conductor (You should greet the driver): Either on a bus or on a taxi, it's considered polite to greet the driver when you get in—and of course, in the case of a taxi, also when you get out. In most public buses in Spain, the exit is only through the back, so you don't see the driver again and therefore you don't necessarily need to say goodbye. Of course, if you're taking the train or the metro, you won't see the driver, so you don't have to greet anyone.

Deberías ofrecer tu asiento a alguien que lo necesite más que tú (You should offer your seat to someone who needs it more than you): If you're sitting down and someone enters who might need to sit down more than you do, you should offer them your seat. We're referring, for example, to old people, handicapped people, pregnant women, among others. Out of politeness, they might refuse it sometimes, but it's common and considered polite to insist a little bit more.
Debes comprar un billete (You must buy a ticket): We don't think we need to say this, but just in case, don't forget to pay for your ticket! Or the ride, if you're taking a taxi.
6. Do's and Don'ts for Business
If you work in Spain or travel there for work, you might need a couple of tips, even though Spanish business etiquette is quite international.
Deberías dar la mano (You should shake their hand): This is the basic rule for greeting someone in a business environment, but there is an exception. As we explained in our article about greetings, it's common in Spain to kiss someone twice when greeting them. While in this context a handshake would be the usual greeting, if you're greeting a woman who's offering you her cheek, you should kiss her on her cheeks; if you're a woman and you're greeting a man who looks like he's about to kiss you, don't shy out and offer him your cheek. If you ignore this greeting, it might look like you want to avoid them, and we're sure you don't want to do that.

No lleves ropa informal a menos que te digan lo contrario (Don't wear casual clothes unless told otherwise): More often than not, you should wear formal yet simple clothes.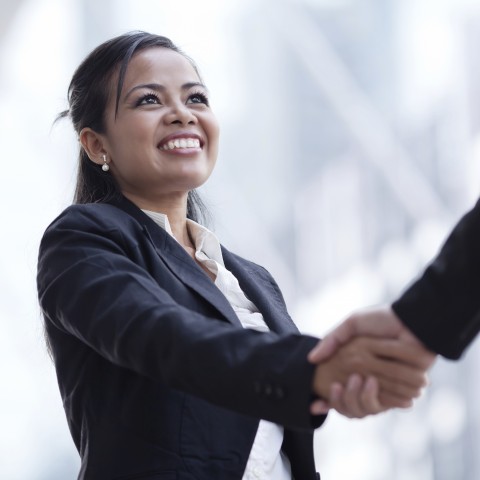 7. Do's and Don'ts for Celebrations
Often, celebrations have more rules than we wish they had. We'll show you a few basic Spanish etiquette and customs for celebrations, but sometimes these rules depend on the specific event, so you might have to ask whoever invited you to the event. For example, whether you should wear formal or casual clothes, or whether you can bring your kids or not.
Something that's applicable to different kinds of celebrations is the act of making a toast. In Spanish, this is called brindar, and there are a couple of ways of saying "Cheers." One of them is ¡Salud! and another one, which people tend to find interesting, is ¡Chinchín! Many people think this is an onomatopoeia that resembles the clashing of glasses, but as it turns out, it actually isn't; it comes from Chinese. In some families, it's considered bad luck for people to drink water in these cases, but it's nothing you need to worry about if you don't feel like drinking alcohol.
Spanish Wedding Etiquette
Deberías comprar un regalo (You should buy a present): It's common to get presents for the bride and groom, but remember that you're not meant to bring it to the wedding. Sometimes, instead of getting them a present, you can transfer some money to a bank account that they will provide.
No vayas de blanco (Don't wear white): The only person who's allowed to wear white is the bride.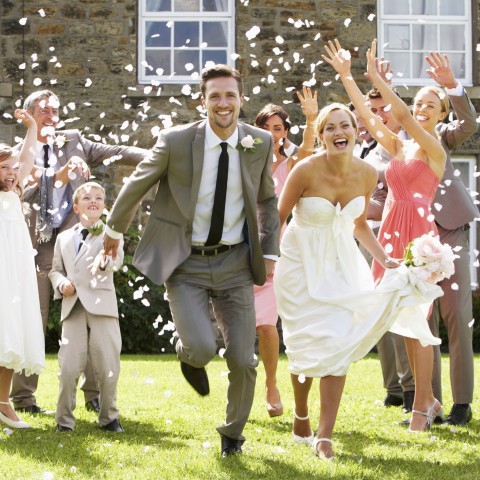 Spanish Etiquette for Birthdays
If it's your birthday:
Invita a tus amigos a una comida (Invite your friends for a meal): Either breakfast, lunch, dinner, or something in between, it's common to invite your friends (and/or family) to have a meal, and to pay for all of them. This can be at a restaurant or at your place, and it doesn't need to be fancy or a big celebration. We'll leave this up to you.
If it's someone else's birthday:
Deberías llevar un regalo (You should bring a present): We guess this is common in most cultures, but it's customary to bring a present for the person who's celebrating their birthday.
Etiquette for Births
Deberías llevar un regalo (You should bring a present): It's common to bring a present for the new parents, either to the hospital if they're family or close friends, or whenever you see them. The present is normally something for the newborn, but it can be something for the parents as well.
Spanish Funeral Etiquette
Deberías dar el pésame (You should give your condolences): It's common to say Lo siento (I'm sorry), but if you knew this person really well, their family might appreciate it if you said something slightly more personal, yet brief. Let them know you cared about them.
Deberías presentarte (You should introduce yourself): If the family of the deceased person never met you before, you should introduce yourself to them and let them know how you knew him or her.
No es necesario vestir de negro (It's not necessary to wear black): Even though it's still rather common, it's not compulsory to wear black clothes anymore.
Something else you should know is that it's common to bring flowers, and sometimes even flower crowns, as a group present.
For other celebrations and festivities, such as New Year's Eve, you can check out our lesson on Spain's New Year's traditions, or another lesson on how to celebrate Christmas in Spain that might be interesting to know if you're in Spain for the holidays.
8. How SpanishPod101.com Can Help You Learn Spanish
Keep in mind that no one will judge you if you don't remember all of these rules we just listed. If you're ever unsure what you can and can't do, don't hesitate to ask someone. They will perfectly understand that you're foreign and not completely familiar with our traditions and customs yet. This is especially true in very specific celebrations, such as weddings, that don't happen everyday.
Are any of the customs we went over similar to those in your country? We look forward to hearing from you in the comments!
At SpanishPod101.com, you can learn everything you need to know about Spain, its culture, and its language. From vocabulary lists to lessons, we have anything you might need. Join us and learn Spanish like never before!