Each year, the Spanish celebrate La Fiesta de San Fermin (or the "San Fermin Festival"). Known in particular for its Running of the Bulls tradition, the Fiesta de San Fermin is one of the most iconic Spanish holidays!
Learn some fascinating Running of the Bulls facts, including which American writer helped popularize it, with SpanishPod101.com! In learning about this fun, traditional Spanish holiday, you're allowing yourself to see more layers of Spanish culture. And as successful Spanish learner can tell you, knowing a country's culture is vital in mastering its language!
Let's get with it, and start learning about the San Fermin Spain is so famous for.
1. What is San Fermin?
To start, where is the Running of the Bulls and the San Fermin festival? The Festival of San Fermin, or Sanfermines, is held in Pamplona, the capital of Navarre, in honor of San Fermin. However, the actual identity of San Fermin and his place in history are vague and not well known.
As far as Running of the Bulls facts, this event actually commemorates the persecution of Saturninus, a man loosely involved in Fermin's coming to Christianity. Saturninus died being dragged by a bull he was tied to.
Do know who has done the most to increase the fame of San Fermin?
It was the American writer Ernest Hemingway, through his book Fiesta (also called The Sun Also Rises). The future Nobel Prize winner first came to Pamplona accompanied by his first wife in 1923. He was so deeply impressed by the San Fermin festival, that he repeated the trip several times.
2. When is the Running of the Bulls?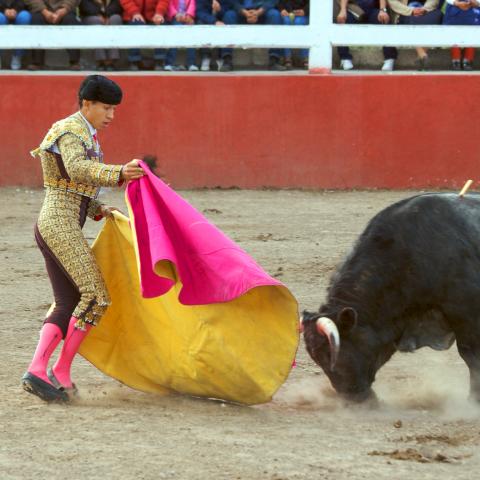 The Running of the Bulls date each year begins on July 6 and continues until July 14.
3. Reading Practice: Running of the Bulls & San Fermin Festival
Do you know how Spain celebrates the San Fermin Festival? Read the Spanish text below to find out, and find the English translation directly below it.
—
El comienzo de San Fermín lo marca el chupinazo, desde el balcón del ayuntamiento de Pamplona. Así se le llama al cohete que es lanzado el 6 de julio. El acto más conocido es sin duda los encierros, del 7 al 14 de julio. Consisten en conducir una manada de toros a las ocho de la mañana desde los corrales de Santo Domingo hasta la plaza de toros. Es un acto muy peligroso, pero en él se reúnen miles de personas que vienen de todo el mundo. Desde 1922 se ha registrado la muerte de 15 personas.
Como en otras muchas fiestas españolas la música y los fuegos artificiales no pueden faltar. Otro símbolo muy emblemático son Los Gigantes de Pamplona, con sus 153 años de historia. Son unas figuras de madera, cartón y tela acompañados de los llamados kilikis, cabezudos y zaldikos. Juntos forman la Comparsa y hacen un total de 9 salidas durante los sanfermines.
Con lo peligrosos que pueden llegar a ser los encierros no extraña que los participantes canten a san Fermín por su protección. Esto se hace en la cuesta de Santo Domingo, que es donde se inicia el encierro, 5, 3 y 1 minuto antes. Desde 2009 se canta tanto en castellano como en euskera.
—
The chupinazo marks the beginning of San Fermín from the balcony of the Town Hall of Pamplona. This is the name of the rocket that is released on July 6. The best-known event is undoubtedly the Running of the Bulls, from July 7 to 14. This consists of driving a herd of bulls at eight in the morning from the pens of Santo Domingo to the plaza de toros. It is a very dangerous act, but thousands of people come from all over the world to take part in it. Since 1922, fifteen deaths have been recorded.
As in many other Spanish festivals, music and fireworks are a must. Another very emblematic symbol is the giants of Pamplona, which boast a 153-year history. They are figures of wood, cardboard, and fabric, accompanied by the so-called cabezudos, kilikis, and zaldikos. Together, they form the troupe, and they make a total of nine outings during the San Fermin festival.
Considering how dangerous the runs can be, it's no wonder that the participants sing to San Fermin for his protection. This is done on the hill of Santo Domingo, which is where the run begins, five, three, and one minute before. Since 2009, the singing has been done in both in Spanish and in Basque.
4. Most Popular San Fermin Foods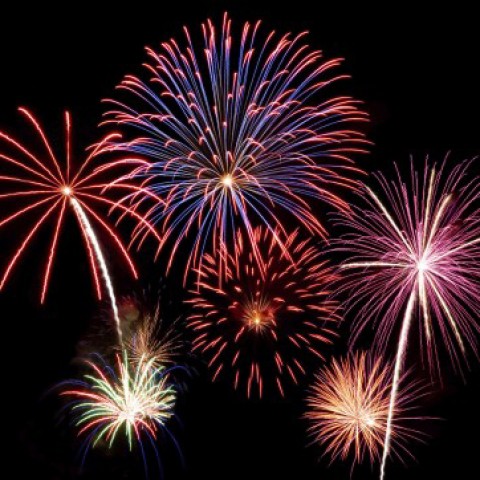 As far as food goes, the holiday begins with a hot cup of caldico, made with veal and chicken, which is given out in front of the Town Hall. After the run, one recovers their strength with a very hot cup of chocolate with churros.
Halfway through the morning, after contemplating the dances of the Giants or participating in the procession of the Saint, it's a good time to have lunch with some tapas of lean meat with tomatoes or fried eggs, with sausage and peppers stuffed with cod.
Snacks in the bullring, consisting primarily of peñas, are a good example of home cooking.
5. Vocabulary to Know for the San Fermin Festival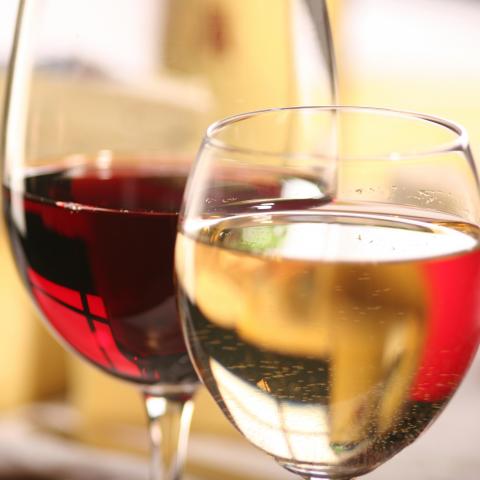 Here's some vocabulary you should know for the San Fermin holiday in Spain!
Vino — "Wine"
Novillo — "Young bull"
Encierro — "Running of the Bulls"
Estruendo — "Roar"
Pañuelo rojo — "Red neckerchief"
Cornada — "Goring"
Fuegos artificiales — "Firework"
Multitud — "Crowd"
Chupinazo — "Firecracker shot"
Corrida de toros — "Bullfight"
Toro — "Bull"
Tapa — "Bar snack"
To hear each vocabulary word pronounced, check out our San Fermin vocabulary list!
Conclusion
What do you think of the San Fermin festivities in Spain? Did you learn anything new about this holiday? Let us know in the comments!
To continue learning about Spanish culture and the language, keep exploring SpanishPod101.com. We provide fun and practical learning tools for every learner, including free Spanish vocabulary lists and more insightful blog posts like this one! We also host an online community where you can talk with fellow Spanish learners, or reach out for help!
To make the most of your learning, upgrade to Premium Plus and begin learning Spanish with our MyTeacher program! This allows you one-on-one access to your own Spanish teacher, who will be there to help and guide you all throughout your language-learning journey.
Know that your hard work will pay off, and you'll be speaking, reading, and writing Spanish like a native before you know it!